The search app will allow you to easily retrieved documents that are in SharePoint, SharePoint Online, or your Azure Repositories.
Searching for Documents
There are two ways to search for documents using the Search App. Using a Shared Search and using Quick Search.
Shared Search
From the KnowledgeLake Home page, click Search.
Select a search from the Shared or Favorites lists and click its name.


NOTE: Searches can also be searched for using the Filter Searches box at the top of the page.

When presented with the search, fill in any values you'd like to search on and press Search.
If you are using SharePoint and have not logged in before, you will be prompted for your SharePoint credentials.

You should now be presented with your search results in the results grid.
Once highlighted, results can have the following actions performed on them using the Actions button:
Export to XLSX - Exports an excel sheet of your search results.
Download - Downloads the selected files to your local machine.
Copy Links - Copies text links to the selected documents to be sent to others in messages or emails.
Delete - Sends the current document to the recycle bin for Azure and configured deletion location for SharePoint and SharePoint Online.
NOTE: Download, Copy Links, and Delete can also be found in each item's ellipse menu.
Export Selected - Exports the selected documents to a configured Export location.
Export All - Exports all result items to a configured Export location.
NOTE: Reference the Running an Export Article for further instructions using this option.
Actions you can do on each item in the results grid are:
Show Metadata - Click the carrot to the left of an item to show it's metadata in the results grid.
View Document - Open the KL Viewer by clicking the File Icon to the left of the list item or click the ellipse button and click View.
View Document in Native Application - Click the ellipse next to the list item and select View Native.
Quick Search
From the KnowledgeLake Home page, hover over the Search icon in the left-hand navigation bar and select Quick Search.
Select a Catalog from the drop-down in the upper left-hand corner.
Fill in the Keyword(s) field with what you would like to search and choose whether to Trim Duplicates.
Click Search.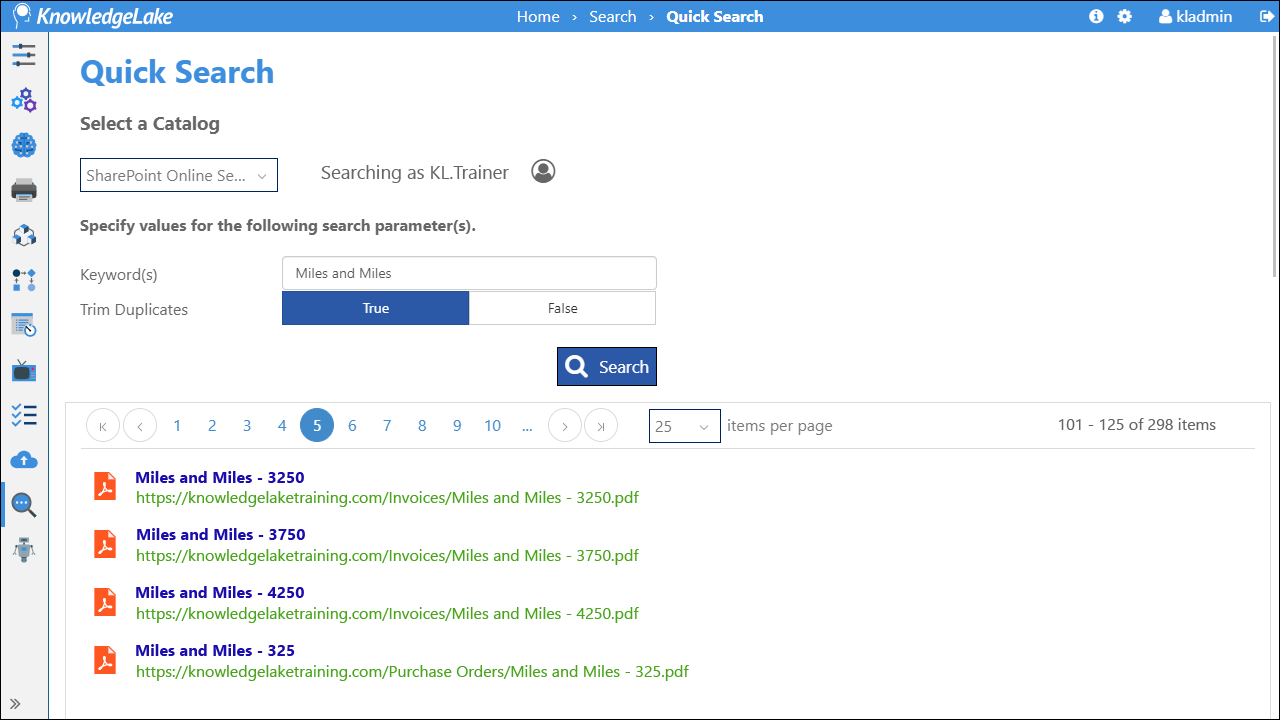 You should now be presented with a list of results matching your keywords and their locations.
Managing Favorites
When you first enter the search app, you will be presented with the My Searches page. You will see a list of favorites and a list of shared searches.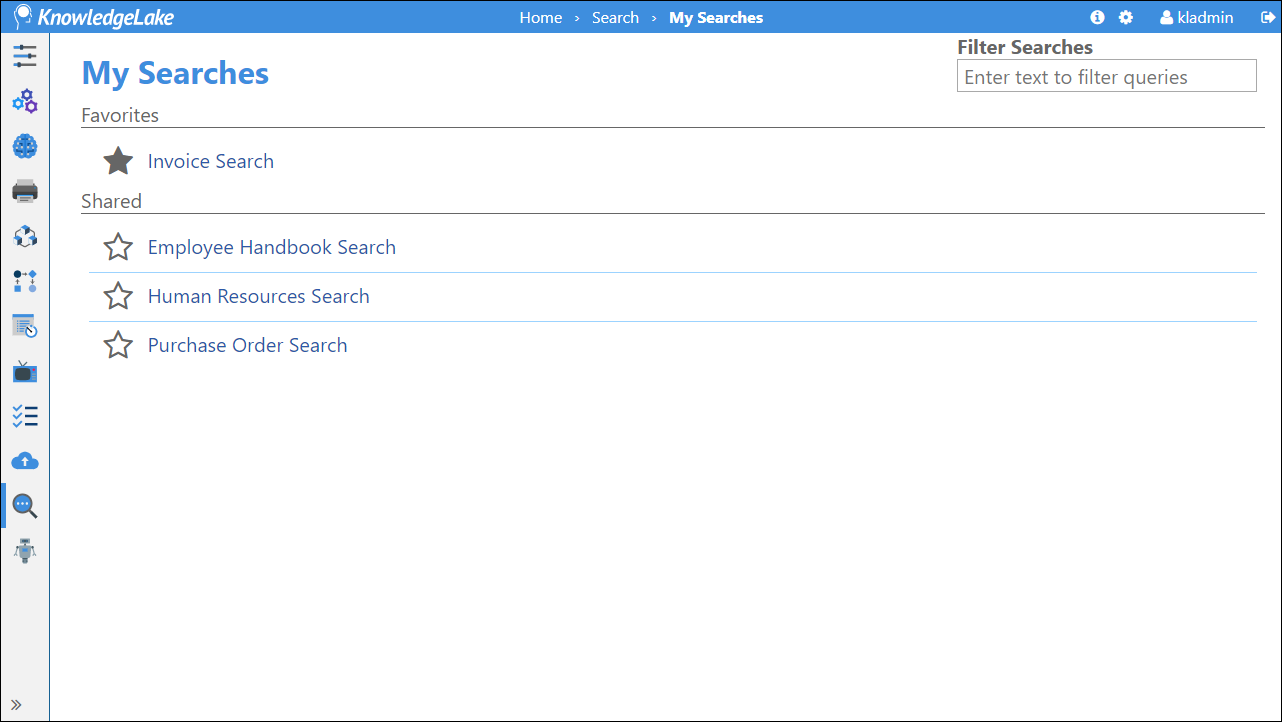 To pin a Shared Search to the top of your page as a favorite:
Locate the search under the Shared Searches list
Click the Star icon next to the search.
To move a Favorited Search back to the Shared Searches List:
Locate the search under the Favorited Searches list
Click the Star icon next to the search.