KnowledgeLake is excited to announce the new features for the Winter 2021 update that includes the following:
Feature Update Overview
Learn What's new in the KnowledgeLake Winter 2021 Update.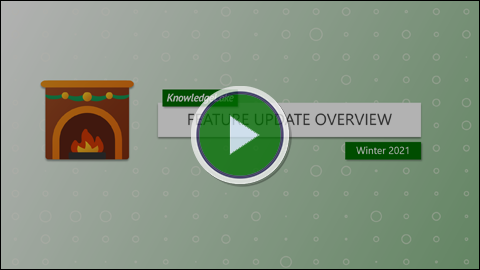 Oracle Source Connector

We are excited to announce that you can now connect to your Oracle database as a data source. Once configured, you can use this source for indexing behaviors such as look ups, filters, auto index fields and more.


View Add an Oracle Source in the Knowledge Base for more information.

Learn Improvements

We've made changes to the Learn Queue to make it easier to manage those files. Grouping and sorting has been added so you can easily organize the queue to fit your needs. We also added larger image previews so you can see more page details when deciding which file to use when building a Fingerprint. We have also added additional configuration for automatic separation in the Classify Your Documents activity. You now have the option of handling how unclassified pages are handled: always merge with preceding matched page, always create a new document, or let the system automatically decide.

For more information, refer to our Classify Your Document or Learning Queue documentation.

Search and View Usability

Based on feedback we have gotten we are going to continue making usability improvements in our Search and View apps. In this update you will now be able to see an item count for groups in search. In the Viewer we have added the ability to continuously scroll through pages using the mouse wheel as well as the ability to jump directly to a page.
Other Notable Features
Alphabetized SharePoint & SharePoint Online List
Items in drop-down lists sourced from SharePoint or SharePoint Online will now be in alphabetical order and have duplicates trimmed.


Updated JavaScript Engine
Users will now be able to use modern JavaScript functionality when writing custom behaviors.


Update to Restart Batch Action
You now have the option to clear index field values and choose which version of the process to use on a restart.


Update to Modified Information on Fingerprints List
The Modified and Modified By information shown on the Fingerprints page will now only be updated if a user saves changes to a Fingerprint.


Move Rules on a Fingerprint
You can now move rules between pages on a Digital Fingerprint in the builder.


New Outlook Add-In Option
Users now have the option to upload the original message file (with attachments still embedded) as a single document. Previously, you could only upload the message and attachments as separate documents.


New Original Page Count Property for Documents from the Scan App
Documents created in the Scan App now have a system property ImportedPageCount.


Improved Task Emails
Emails sent to users informing them of Tasks assigned to them will now list out all of the Tasks with links to each.


Stability and Performance Improvements
Users should see a marked performance increase in batch processing as well as when doing document editing in the Index app.
For more on this release, please visit our Resolved Issues.