The Latest Update to the KnowledgeLake Cloud is now Available!
We're excited to announce that the latest update wrapped up and is now available for the KnowledgeLake Cloud and will be deployed to customers and partners over the next couple of weeks.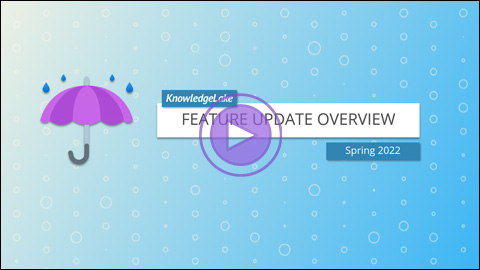 Feature Update Overview
Learn what's new in the KnowledgeLake Spring 2022 Update.
KnowledgeLake Content Services

We are excited to announce that KnowledgeLake now offers full management of documents for an organization. It's your documents – stored and secured buy KnowledgeLake. There are no external connections required and it seamlessly scales with your volume.

Please contact your Account Manager for more information.

Preview of RPA Design Studio

The KnowledgeLake RPA Design Studio is now available in Preview for you to take for a test drive. This design studio gives you the power to build RPA and RDA automations without the need to write a single line of code. We would love to get your feedback on this amazing new studio.

To get access to the Preview version, please email your request to pm@Knowledgelake.com.

Full Text Search

You can now search the entire content of a document using our new Full-Text search Filter. This enabled you to search against not only the OCR text of the document but any annotation text as well. Importantly, this can be combined with property-based searching to provide a full spectrum search experience to find the exact document you are looking for.
Other Notable Features
Image Preview on Hover in the Learn Queue – As you mouse over a document in the Learn queue, a preview image will be displayed. This will provide a better "at a glance" browsing experience for the Queue.
Add to Existing Training Set from the Learn Queue – Associate queue files directly with an existing Fingerprint.
New System Properties – You can now add search terms for Created, Modified and Modified By information to your saved searches.
Modern Authentication for SharePoint Online Search Catalog – When configuring an SPO search you now have the option to use Modern Authentication rather than providing a username and password (Legacy Authentication).
View Now Persists in the Monitor – The Monitor now persists your configured view. Sorts, filters, and groupings now persist when you leave and then return to the page.
Option to Execute Lookup After X Characters – This provides a better experience when working with large data sets for lookup fields.
Edit Properties of All File Types – Properties for any file type can now be edited when opened in the viewer.
Extract Text Activity – This new activity will perform an OCR scan of the document so it can later be searched using full-text.
For more on this release, please visit our Resolved Issues.